9 técnicas para no ser víctima de estafas de reparación de techos después de una tormenta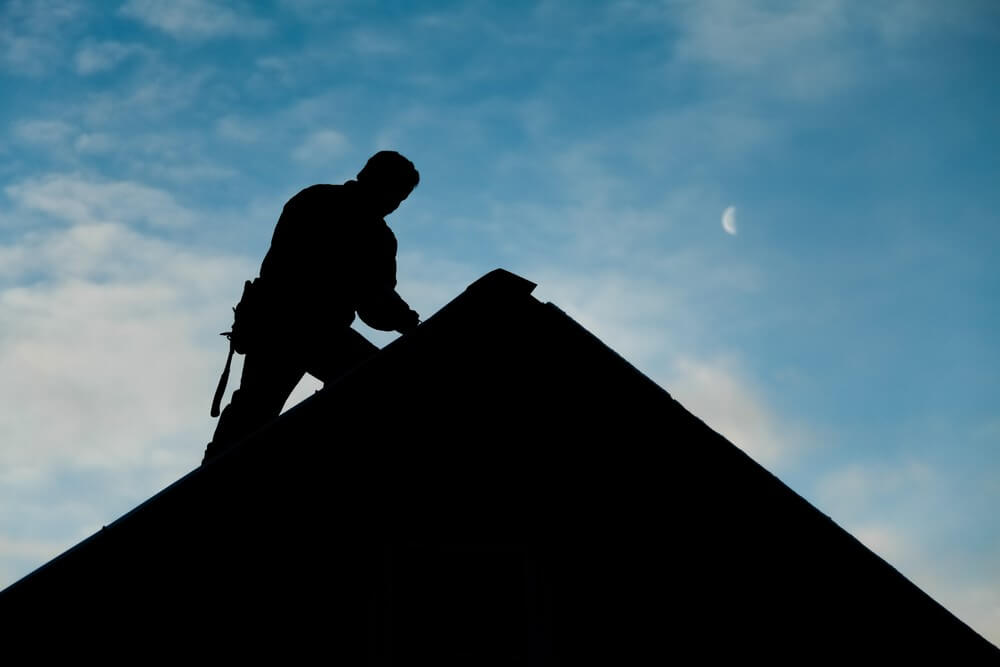 Los vientos fríos se han impuesto. Ha dejado de llover. Y el daño está hecho. Contratistas y compañías de reparación de techos que van detrás de las tormentas llegan a raudales a la ciudad disfrazando sus estafas como la única salvación para usted.
While repairing your property is likely at the top of your to-do list after a storm, it's crucial to ensure your repairs are handled by one of the many credible, licensed companies or contractors. It's important to hire someone who's worthy of your trust and meets your needs at an affordable price.
Phony storm chaser roofing companies and contractors prey on areas that have just been impacted by storms. Most of the time they get away with their roofing scams because it takes a few years for a credible company to come in and point out mistakes. By that time, the sham contractor is long gone.
The following nine techniques help you choose from one of the many credible companies out there so you stay away from shady storm chaser roofing companies:
Be Cautious of the Door-To-Door Roofing Sales Pitch
Roofing scams often start with a knock on the door. If a roofer knocks on your door, claims to have just completed a roof down the road, then offers you a discounted price due to unused materials or a "today only deal", that's a warning sign their door-to-door roofing sales pitch is actually a scam.
Speak with Your Insurance Claims Adjuster Before Signing Anything
Your insurer's field adjuster is a pivotal part of the repair process because they handle the claim from start to finish. Keeping them in the loop during the process saves you from any hassles you may come across through the repairs.
This also prevents you from agreeing to work that may not be covered by your home insurance policy.
Get Two or Three Written Work Estimates
Comparing these estimates to one another will give you a clear indicator of offers that are either too good to be true or extremely expensive.
While reliable contractors may provide you with a low bid, there may be extra expenses that incur during the repair process.
Get an Estimate in Writing for the Work and Materials
Avoid contractors that operate by an oral agreement, as this is a clear indicator of roofing scams.
Make sure they write down the final cost of labor and materials, amount of hours, the scope of work, payment schedule and any guarantees.
This allows you to steer clear from incurring unexpected expenses.
Be Weary of a Rock-Bottom Starting Bid
These low bids often come with a hefty price. Some contractors will try to entice you with a bid that's far lower than any other company in the area. The price could steadily increase due to "unforeseen problems" that arise after repairs have begun.
While prices of materials do increase from time to time, a contractor shouldn't try to increase the price of your overall cost throughout the project.
Check Licenses, Proof of Insurance and the Better Business Bureau
Checking the roofer's license with your local building department or licensing agency ensures it's legitimate.
Checking the company's Better Business Bureau listing can bring previous complaints to light.
A red flag of storm chaser roofing companies is listing only a P.O. Box instead of a full address.
Never Pay up Front or in Cash
Paying with a check or credit card allows you to keep a record of each payment, which can act as a receipt if the contractor disputes the payments.
While it's reasonable for legitimate roofers to request a modest down payment up front, contractors that request a large lump sum up front are to be taken with caution.
Don't Move Too Quickly
Hiring a contractor on the spot is an impulse decision that could cause you headaches and cost you a lot more money in the long run.
These scam artists will often prey on your anxiety to start the job as soon as possible. If they insist the work must be done quickly and pressure you to make a decision, that's a warning sign of a roofing scam.
Never Sign a Contract with Blanks
This leaves room for storm chaser roofing companies to fill in blank spaces in the contract with verbiage that could cause you future financial problems or, ultimately, bogus repairs.
Although these are tips to avoid falling prey to storm chaser roofing companies' roofing scams, the advice also applies to any repairs your home or property may need. Remember, there are many reputable companies and contractors out there to choose from.
The editorial content on Universal Property's website is meant to be informational material and should not be considered legal advice.