Evite reclamos de seguro para el hogar en Halloween con estos trucos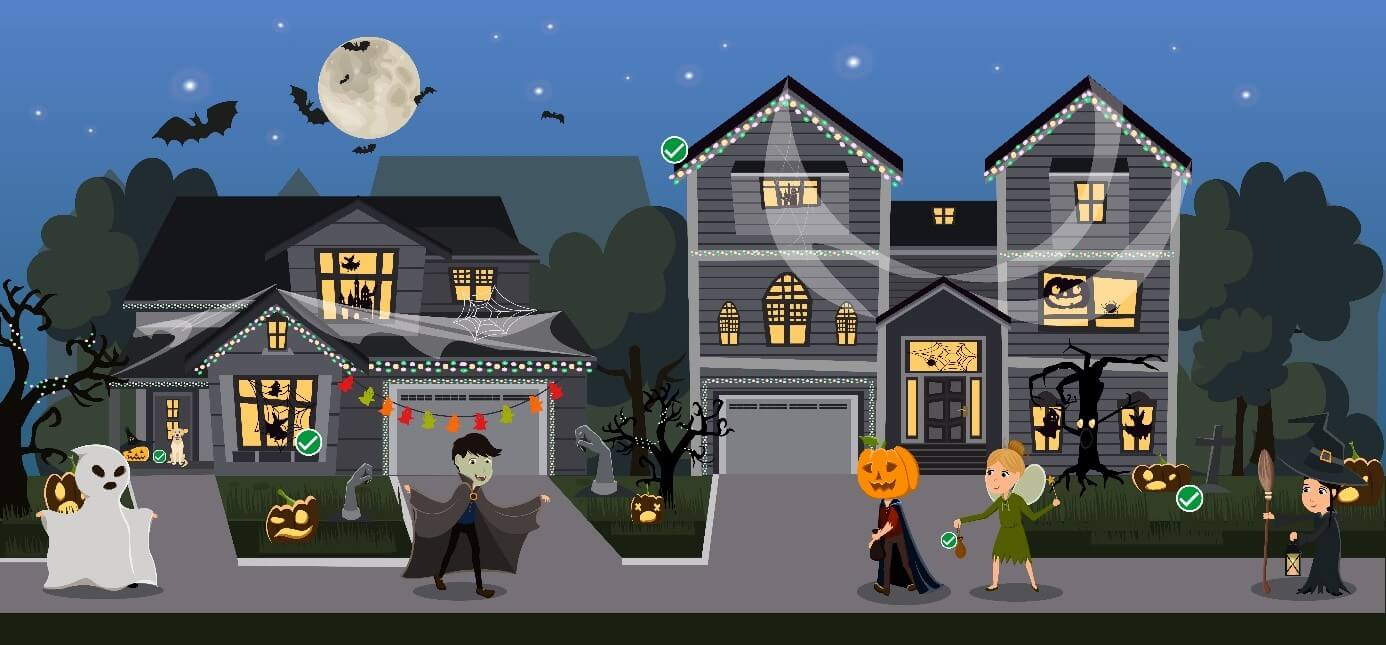 Cuando la gente piensa en Halloween, piensa en recolectar y comer caramelos y barras de chocolate, gomitas azucaradas y todos los dulces favoritos que consumen una o dos veces al año. No piensan en los efectos posteriores de un dolor de estómago.
Out of sight, out of mind.
Halloween home insurance claims also tend to be out of sight, out of mind. It's meant to be a scary holiday, but you can avoid some serious home insurance scares with the following tricks:
1. Turn On Outside & Inside Lights
Many people are aware that an illuminated porch light is an inviting signal that assists contributions to trick-or-treaters' candy bags. The porch light may not provide efficient lighting for people, though.
Even if you have a front yard full of extensive decorations, it's especially important to keep walkways well lit and clear of clutter. This includes your sidewalk, driveway and path to your front door. It helps prevent injuries, which could result in large medical bills and even legal bills, from occurring on your property.
A home with an unlit porch light could also mean residents of the house are scouring the neighborhood for candy or are at the annual Halloween parade. To deter thieves and vandals, make sure you keep lights on throughout the house when you're away.
2. Avoid Fire Hazards
To reduce the risk of a fire, refrain from using candles. Use battery-operated lights in jack-o'-lanterns and other decorations. If you decide to use candles, place any flammable decorations, such as dried paper or fake spider webs, a safe distance away. Remember to keep them away from heat lamps and powerful lights as well.
If you're going to use smoke machines — or still decide to use candles — make sure your fire alarm and smoke detectors are working properly before trick-or-treaters arrive at your doorstep.
3. Conduct Property Check
While daylight is still present, walk around your property to ensure there are no hazards that could potentially harm someone.
Hazards include
• Items sticking out of ground
• Potholes in yard
• Cracks or breaks in pavement
• Electrical cords or Hoses strewn throughout lawn
• Low-hanging or overgrown tree limbs
4. Ensure Candy Is Safe
Homemade treats are an absolute no-go. People are trained to throw them out, so don't even waste your time and effort making them. Or you could snack on those and hand out individually packaged candy you bought from the store.
Keep in mind that kids can have allergies to peanuts and other products like wheat or dairy. Wheat, dairy and peanut allergies can be fatal. You may think about skipping over those soft, melty chocolate and peanut butter treats and handing out something more on the caramel and chocolate end of the sweets spectrum.
5. Don't Invite Trick-or-Treaters Inside Your Home
It's unfortunate, but not everyone has good intentions on Halloween. Allowing strangers inside your home is a bad idea. Criminals disguised as their favorite '90s cartoon character could be scoping your valuables and may leave you vulnerable to a future break-in.
Kids and their parents could have been walking through puddles, mud and a treat your neighbor's dog left, tracking it into your house and staining your carpet. It's just a good idea to meet them at the door or deliver candy from your front porch.
6. Watch Your Pets Carefully
Some pets do well around strangers. Others don't. Only time will tell if your pet can handle being around strangers draped in scary costumes. From 2013-17, insurance companies paid out $2.4 billion in dog bite claims, according to the Insurance Information Institute. So it's safer to keep your pet in a room or cage away from visitors. If you decide to introduce your pet to trick-or-treaters, keep them safely on a leash.
Be prepared for Halloween's unforeseen tricks, so you can remain focused on the more important treats of life — and the scariest day of the year.
The editorial content on Universal Property's website is meant to be informational material and should not be considered legal advice.